Larissa Koniuk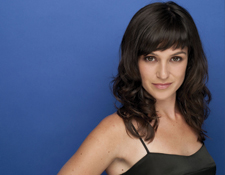 Soprano Larissa Koniuk is a singer and actor whose artistic concentration is in the creation and collaboration of new opera works. Larissa is the co-founder and artistic director of the Bicycle Opera Project, producing and performing contemporary opera across Ontario. Highlights of Larissa's 2013-14 season were engagements in Soundstream's production of Brian Current's Airline Icarus, the premiere of FAWN Opera's L'homme et le ciel, a new opera by Adam Scime, and Soulpepper's modern adaptation of Dido and Aeneas. Larissa has performed and premiered many solo concert works including the premiere of Thin Straight Lines, a song cycle for soprano and quartet by Anna Höstman, the Toronto premiere of Adam Scime's Images of John A Wilson: a mini opera for soprano, and The Handless Maiden: a one-act monodrama for soprano and electro-acoustics by Wende Bartley. Upcoming engagements include TSO's New Creations Festival, and the RCM's 21C Music Festival, and the premiere performance of Longuement me sui tenus by Aaron Gervais with Soundstreams. Larissa looks forward to embracing the vivacious character of Daisy Fairchild in The Bells of Baddeck, a new music-drama by Dean Burry and Lorna MacDonald. A graduate of Wilfred Laurier University, Larissa holds a Bachelor of Music degree in vocal performance.
Nadia Chana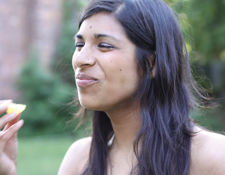 Apparently nomadic by nature, mezzo-soprano Nadia Chana arrived in Toronto this September, having lived in Vancouver, Edmonton and Winnipeg. Fluent in many genres, Nadia has improvised live soundtracks to a circus artist on aerial silks in the middle of a desert, and co-created 
Cut the Sunlight,
 a one-act chamber opera. She has performed as a soloist in Handel's
Messiah
 with the Vancouver Symphony Orchestra and the Vancouver Bach Choir, and most recently sang the role of Phoebe in St. Anne's Music and Drama Society's production of 
Yeoman of the Guard
. Last season, as part of the eXperimental Improv Ensemble (XIE) of Winnipeg, Nadia improvised live film soundtracks – sound, song and surrealist poetry – in Chroma-Dance: 11 Experimental Shorts. With a penchant for the interdisciplinary, Nadia holds degrees in Voice Performance, Musicology and Honours English. During her time at the University of British Columbia, she was named a Wesbrook Scholar, UBC's most prestigious designation for outstanding academic performance and leadership. Nadia is active as a voice teacher and clinician and has run workshops both on staged art song and on healing through exploration of the unfettered voice. As a certified yoga teacher, she incorporates body (and soul) work in her voice teaching. Overjoyed at the opportunity to pursue her many diverse interests, Nadia will begin a PhD in Ethnomusicology at the University of Chicago this September.