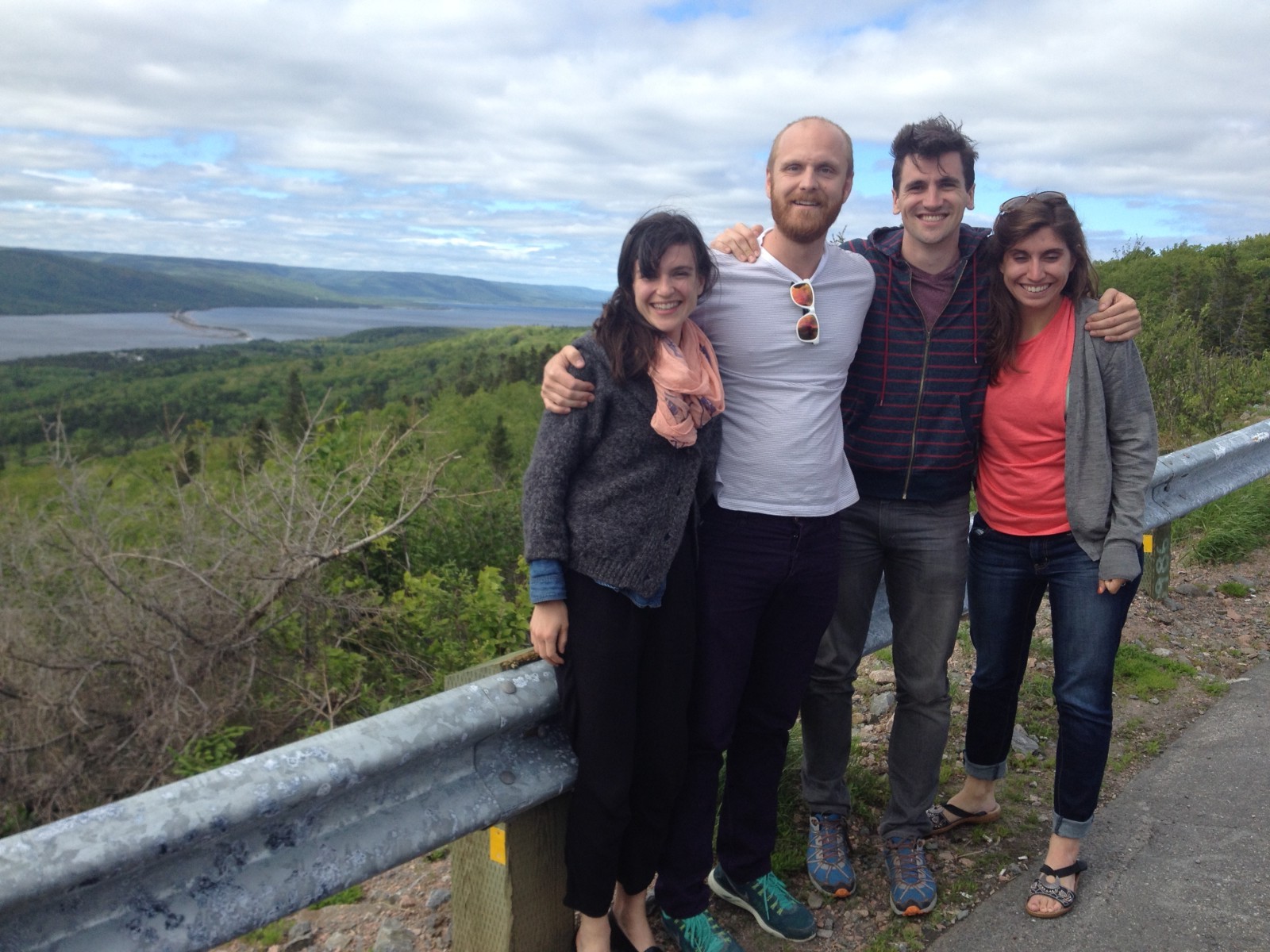 BOP tour is back and we're on the move!!
Usually traveling is pretty straight forward for the Bicycle Opera Project.
Seriously… it's built right into the name. We jump on our bikes, load up the trailer with fuel (mainly sandwiches), and hit the road.
But this year is a little different, because we're not heading out on our normal Ontario tour (at least not until August). I'm writing this from our new home for the next 7 weeks in beautiful Cape Breton.
We've settled just outside of the town of Baddeck,  about 2100 kilometres away from where we started a week ago.
So no… we didn't ride our bikes. We packed everything up and took the "big bike in the sky" toward adventure!
But not before we had a few… 'adventures' of our own.
So… apparently it's not easy feat to box up a bunch of bikes. The helpful (read: not helpful at all) advice that the Air Canada website provided made it seem pretty straightforward, but here's the thing. Our bikes, definitely didn't want to be boxed up. It took one flat tire, 2 broken pedal wrenches, two stubborn pedals that just would not come off, 5 boxes of varying sizes, 3 rolls of packing tape (and one of electrical), one set of Geoffs clothes completely ruined by oil and blood… yes BLOOD (don't worry, he scraped his hand a bit on the pedal wrench that broke….just before it broke) and 6 HOURS of time until they were finally safe in their boxes…sadly it was after dark and we still needed to pack.
Sigh.
It was a late night and an even earlier morning, especially for our BOP leaders Geoff and Larissa who were the first out of bed to drive the bikes to the airport. The rest of us joined them shortly and loaded up our 3 carts of bikes and bags and dragged them into the terminal.
Now, I must admit, I have a early onset 'dad' paranoia when it comes to the airport. You know how when you were growing up your dad always wanted to get to the airport ridiculously early because he assumed everything would go wrong. That's me!!! I expect everything to go wrong, and when I travel on my own leave wide swaths of time to accommodate this inevitable catastrophes. So you can imagine, that coming into the airport with 5 bikes, an incredible overweight large suitcase, and 4 carry on bags (Air Canada has been cracking down on size of carry ons… insert #dadstress) I assumed that our trip to Baddeck would end before it began.
But sometimes everything works out… just perfectly.
We steered through the crowds, attracting a few stares, but also a handful of helpful directions. No one gave us any grief about our bikes, they didn't even charge us overage on the 70+ pound suitcase that we checked (thank you airport gods). Score one for the BOP gang.
An easy drop in oversized luggage, which ironically has a comically small entrance, and we were done.
My #dadstress was all for naught.
But Steph's stress was just beginning.
Our lovely mezzo, Stephanie, has a tidsy little fear of flying. And so as my baggage/security stress melted away hers started to grow.
But yet again we were blessed. Because she was a total champ. I know she might disagree, but she braved not only our first flight from Toronto to Halifax, but the tiny plane that we took from Halifax to Sidney… which we were assured "always makes it".
Here's a tip, if you were wondering, saying 'it always makes it' is not comforting information to a nervous flyer.
I don't know how they managed to pack our five bikes in the belly of that tiny plane, but we all arrived (BIKES AND ALL) safe and sound and to a wonderful welcoming party at the JA MacCurdy Airport.
So wait… why is BOP in Cape Breton?
Ah. Nothing gets past you…
We're here as artists in residence for The Bells of Baddeck: The Alexander Graham and Mabel Bell story. All four BOP cast members are working on Lorna MacDonald and Dean Burry's new music drama that we'll tell you tons more about over the next few weeks.
We're based here in Baddeck for the next 7 weeks before we start our own tour: shadow box. Which we're also super pumped about.
Stay tuned here to keep up with our adventures. Follow us on twitter. The Facebook . Or right here on the site as we keep the news coming at you.
Bike Opera is back baby!!!
Get used to it.
-Chris